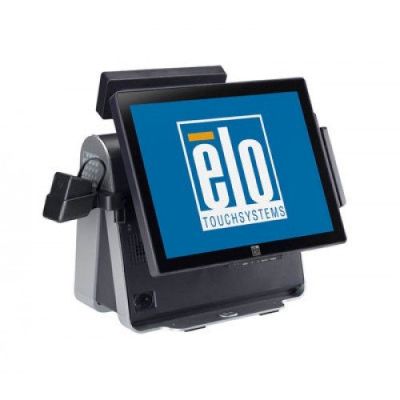 17D1 Rev C 17" Touchcomputer (Discontinued April 2013)
Overview
The 17D Series 17" All-in-One Touchcomputers bring style, flexibility and functionality to point-of-sale (POS), retail and hospitality businesses. With a wide array of field-installable peripherals, spill-resistant sealing, and a range of input/output port connection options, the 17D1 and 17D2 are versatile and powerful. These touchcomputers are designed with the future in mind, allowing easy serviceability of the main components and excellent performance utilizing Intel Dual-Core 2.2 GHz or Intel Core Duo 3.0 GHZ processors. The 17D Series expands the Elo TouchSystems high profile family of reliable, easy-to-integrate multi-function touch solutions.
Other features
"Designed for touch" from the ground-up; stable stand and tiltable display - Elo quality and reliability
On-screen display controls located on the bottom rather than the front, plus lockout function for public use - Minimizes accidental or inadvertent changes to the display's controls
Security lock receptacle - Provides fast, effective, and convenient security
Supports 2nd internal SATA hard disk drive - Enables extra storage capacity or disk mirroring (RAID) for data protection
Worldwide agency approvals - Meets local agency approvals, as required in many countries
Field-installable peripherals - Minimizes downtime with peripherals that are easily installed in the field rather than factory
Field-replaceable motherboard, hard drive and power supply - Easy serviceability minimizes downtime
Excellent cable management and cables hidden from view - Eliminate accidental disconnection and give a clean, professional look
5 serial (2 of which are powered, 5V default/12V switchable), 7 USB 2.0, Ethernet 100/10 Base-T, Cash drawer port, 2 PS/2, Audio (1 line-in, 1 line-out, 1 mic-in), 24V printer power connector, parallel port - Accessible POS/POI-focused input/output ports make installation of peripherals easy
Spécifications
Technique

---

AccuTouch (Antiglare, Worldwide) - E962814
AccuTouch (Antiglare, Worldwide) - E991776
AccuTouch (Antiglare, Worldwide) - E932509
AccuTouch (Antiglare, Worldwide) - E853771
AccuTouch (Antiglare, Japan) - E209213
IntelliTouch (Antiglare, Worldwide) - E932202
IntelliTouch (Antiglare, Worldwide) - E877994
IntelliTouch (Antiglare, Worldwide) - E360682
IntelliTouch (Antiglare, Worldwide) - E057329
IntelliTouch (Antiglare, Japan) - E765555

Technologie et fonctionnalités tactiles

AccuTouch® - Résistant à 5 fils - Touche unique
SAW (ondes acoustiques de surface IntelliTouch®) - Touche unique

Intel Dual-Core Celeron E1500 2.2GHz 512K L2 Cache 800MHz FSB LGA775 Pkg

1GB DDR2 DIMM on 1 of 2 slots (Expandable to 4GB max on 2 slots)

160GB 2.5" 160GB SATA HDD
Optional 2nd 160GB hard drive available

Taille de l'écran (diagonale)

Diagonale de 17", matrice active TFT LCD (LED)

Controls (bottom): menu, up, down, select, power
Settings: brightness, contrast, phase, auto adjust, H-position, V-position, clock, sharpness, RGB, OSD H-position, OSD V-position, OSD time, OSD language, recall
Languages: English, French, Italian, German, Spanish, Japanese, Traditional Chinese, Simplified Chinese
Lockouts: user controls

13.3" x 10.6" / 338 mm x 270 mm

LCD panel: 300 nits
AccuTouch: 240 nits
IntelliTouch: 270 nits

Temps de réponse – total (standard)

Horizontal: ±80° ou 160° au total / Vertical: ±80° ou 160° au total

2 x PS/2 (1 Keyboard and 1 Mouse)

7 x USB2.0 ports
Additional internal ports available for optional Elo peripherals.

1 x RS-232 (standard)
2 x USB-to-Serial RS-232 (standard)
2 x USB-to-Serial RS-232 powered (5V default/12V; selectable via jumper)

Optional USB wireless kit available (802.11b/g/n)

1 x cash drawer (12V/24V default; selectable via jumper)
Compatible with the following APG models:
-MultiPRO 320 with CD-005A cable
-MultiPRO 420 with CD-039A cable

1 x 3.5mm line-in
1 x 3.5mm line-out
1 x 3.5mm mic-in

Sans système d'exploitation
Windows Embedded for Point of Service (WEPOS)
Windows XP Professional Service Pack 3 (32-bit only)
Windows POSReady 2009
Windows 7 Professional (32-bit only)

Windows XP avec 24 groupes de langues; Windows 7 avec 35 groupes de langues
WEPOS - 32 language groups
Windows POSReady 2009 – 32 Language groups

Consommation électrique (standard)

Without Peripherals: 130W
With All Peripherals Connected: 213W

Dimensions maximales de l'écran tactile avec socle

15.0" x 8.4" x 11.3" / 381 mm x 212 mm x 288 mm

Dimensions du colis d'expédition

17.72" x 13.39" x 18.7" / 450 mm x 475 mm x 340 mm

Température de fonctionnement

0°C to 35°C / 32°F to 95°F

-20°C to 60°C / -4°F to 140°F

Operating: 20% - 80%; Storage: 5% - 95%; noncondensing

Homologations et déclarations

UL, cUL, CB, CE, BSMI, NOM, AR S-Mark, CCC, EK, FCC, KCC, GOST-R, RCM, C-Tick, VCCI

Temps moyen entre défaillances

Ability to secure base to tabletop or desktop
Tiltable stand

Touchscreen sealed to bezel (IntelliTouch)
Touchscreen sealed to sub-bezel (AccuTouch, APR)
Touchscreen sealed to LCD (all)

North American and European power cables included

Serviceable internal components
Threaded holes on bottom of base for mounting
Kensington security lock

Stylet IntelliTouch en option

D82064-000, available at additional cost.

Optional Accessories/Peripherals

Magnetic Stripe Reader (Dark Grey) - Elo P/N: E145919
Rear-facing Customer Display (2x20 VFD) (Dark Grey) - Elo P/N: E632206
Biometric Fingerprint Reader (Dark Grey) - Elo P/N: E373639
Single-line Barcode Scanner (Dark Grey) - Elo P/N: E946856
Omni-directional Barcode Scanner (Dark Grey) - Elo P/N: E449881
USB Wireless Kit (B/G/N) (Black) - Elo P/N: E249774
Rear-Facing LCD Monitor Bracket Kit - Elo P/N: E835074
Second 160GB Hard Drive - Elo P/N: E597623
64GB SSD (Solid-State Drive) Option - Elo P/N: E536242
2nd HDD/SSD Mounting Kit (no drive) - Elo P/N: E349653
1GB Low-Profile DDR2 Memory DIMM, 800MHz - Elo P/N: E309480
2GB Low-Profile DDR2 Memory DIMM, 800MHz - Elo P/N: E355477
Printer Power Cable - Elo P/N: E337867
24V Powered USB Cable Adapter - Elo P/N: E814900

---
Lancez-vous avec Elo aujourd'hui.