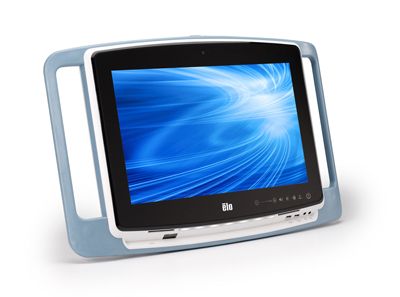 VuPoint 15" and 19" Touchcomputer (Discontinued May 2016)
Overview
VuPoint truly makes healthcare more connected. The integrated communications and computing platform is purpose-built for medical and healthcare environments designed to deliver patient-centric services such as entertainment, information and other services such as electronic medical records. It is a flexible, fully-featured system, with multiple options available to expand its usage and configurations. VuPoint offers a choice of two Intel processors – 1.8GHz Dual Core Atom D525 or 1.1GHz Celeron Dual Core 847E – and multiple connections as well as optional accessories for telephony handsets, and card readers. The fan-less touchcomputer is built to comply with technical standards for the safety, essential performance and effectiveness of medical electrical equipment. A drip-proof, easy-to-clean screen offers protection from drips, leaks, and spills.
Featuring a projected capacitive (PCAP) touchscreen for a fast, sensitive touch response, VuPoint's modern design will blend in with the most sophisticated hospital surroundings. An AccuTouch five-wire zero-bezel resistive touchscreen option provides stable, drift-free operation. The sleek, stylish design is slim with an LED backlight for lower power consumption, yet rugged in construction for long-term durability. The easy-to-clean, sealed zero-bezel touchscreen has no gaps to trap dust and dirt, and the slim, light-weight touchcomputer has built-in handles to easily move the unit while attached to a mobile cart, swing arm, over a bed, or alongside a treatment chair.
VuPoint's flexibility adapts for each healthcare application. Available in 15- and 19-inch wide-screen format, the near-patient applications of the M-Series VuPoint include in-patient hospitals and medical centers for bedside self-service menu-ordering, billing review, internet access, communication, educational services, or remote patient records access. The wide-screen display can be an advantage for out-patient treatment centers by delivering more room on the screen for patient record review and discussion of images and video. Long-term and elderly care facilities may also find attractive the video communications, monitoring and emergency alert options, while still leveraging the patient services and entertainment functionalities.
Overview
Stylish, smart and convenient design - Slim LED backlight for reduced power consumption, recessed lighting and buttons for increased patient well-being and staff convenience, lightweight with soft built-in handles for easy handling at the bedside, on a cart or alongside a treatment chair
Available with Projected Capacitive (PCAP) technology - Multiple touch technologies, each optimized for different operating characteristics and environments to suit diverse application requirements
15" and 19" AiO zero-bezel touchcomputer - Two sizes with seamless, edge-to-edge, sealed PCAP pure-glass touchscreen* is easy-to-clean and accommodates a wide variety of uses and configurations (*AccuTouch zero-bezel resistive also available upon request)
Tested and built for stringent healthcare environments - Fan-less with IP21 for clean, quiet operation and protection from drips, leaks and spills and meets ANSI/AAMI ES60601-1 & IEC 60601-1 (3rd Edition) for Medical Electrical Equipment safety
Two Intel processors: 1.8GHz Dual Core Atom D525 and 1.1GHz Celeron Dual Core 847E - Buy only the processing power necessary from a trusted source for integrated computing uses ranging from patient-centric services and multi-media to electronic medical records
Multiple connections, and built-in peripherals include: 4 USB ports (2 internal, 2 external), 2 internal mini PCI-E slots, front facing dual headphone jack, microphone, barcode reader, magnetic stripe reader, and webcam. Additional options include: built-in RFID reader and phone handset. - Healthcare becomes more connected with an enhanced patient experience through VuPoint's integrated communications and computing platform
3-year warranty - Customer satisfaction and peace of mind
Spécifications
Technique

---

15" Displays:
Projected Capacitive (Antiglare) - E386515

19" Displays:
Projected Capacitive (Antiglare) - E584843


Technologie et fonctionnalités tactiles

PCAP (projeté capacitif) - jusqu'à 4 touches

15":
Intel 1.8GHz Dual Core Atom D525
1MB L2 Cache
800MHz System Bus

19":
Intel 1.1GHz Celeron Dual Core 847E
2 MB Intel Smart Cache
1333MHz System Bus

4GB DDR3
SO DIMM 2GB on 2 of 2 slots

Capacity: 320 GB2
Interface Type: Serial ATA-300
Data Transfer Rate: 300 MBps
Spindle Speed: 5400 rpm
Buffer Size: 8 MB

15":
Intel 82801HM

19":
Intel HM65 (Sandy Bridge)

Taille de l'écran (diagonale)

Diagonale de 15", matrice active TFT LCD (LED)

15" models: 13.5" x 7.6" / 344.2mm x 193.5mm
19" models: 16.1" x 9.1" / 409.8mm x 230.4mm

LCD panel: 300 nits
PCAP: 275 nits

Temps de réponse – total (standard)

Horizontal: ±85° ou 170° au total / Vertical: ±80° ou 160° au total

2x USB 2.0 external front accessible; 2x USB 2.0 hidden/protected
Additional internal ports available for optional Elo peripherals

Dual 3.5mm Headphone Microphone jacks, user accessible
3.5mm Audio line in hidden/protected

Sans système d'exploitation

Anglais (par défaut), Français, Allemand, Italien, Espagnol, Chinois simplifié, Chinois traditionnel

External 12VDC universal-type power supply brick
Maximum output power: 85W
DC Power cord length 5 Meters

Consommation électrique (standard)

Dimensions maximales de l'écran tactile sans socle

15" model: 22.2" x 13.4" x 2.3" / 563.8mm x 340.4mm x 58.4mm
19" model: 24.8" x 15.1" x 2.3" / 629.9mm x 383.5mm x 58.4mm

Dimensions du colis d'expédition

15" model: 25.5" x 17.9" x 5.9" / 647.7mm x 454.6mm x 149.8mm
19" model: 28.9" x 20.0" x 5.9" / 734.0mm x 508.0mm x 149.8mm

15" model: 12.89 lbs / 5.85kg
19" model: 15.43 lbs / 7.0kg

15" model: 19.62 lbs / 8.9kg
19" model: 22.92 lbs / 10.4kg

Température de fonctionnement

0°C to 35°C / 32°F to 95°F

-30°C to 60°C / -22°F to 140°F

Operating: 20% to 80%
Storage: 5% to 95%

Homologations et déclarations

UL/cUL, FCC, TUV, CE, CB, GOST-R, VCCI, IP21

Temps moyen entre défaillances

North American and European power cables included

Serviceable internal components

Disque dur 320 Go 5400 tr/min - E274069

USB telephone handset and arm kit
64 MB SSD Hard Drive Kit
USB TV Tuner Kit
3M DC Cable Kit

Informations pour la commande de câbles d'alimentation CA série E

Réf. Amérique du Nord: E042259

Optional Accessories/Peripherals

Magnetic Stripe Reader
RFID Reader
Barcode Reader
Smart Card Reader
Barcode Scanner
Webcam
USB telephone handset and arm kit - Elo P/N: E709063
64 MB SSD Hard Drive Kit - Elo P/N: E305246
USB TV Tuner Kit - Elo P/N: E177386
3M DC Cable Kit - Elo P/N: E175539

Magnetic Stripe Reader (MSR)

The MSR is a USB 2.0 device that reads all three data stripes on standard credit cards or driver's licenses conforming to ISO/ANSI standards. The MSR has foreign language capability. The MSR is powered from the USB port no external power is needed. The MSR features are:

Reads up to 3 tracks of information
Bidirectional swipe reading
Superior reading of high jitter, scratched, and worn MagStripe cards
Reliable for over 1,000,000 card swipes
Reads ISO7811, AAMVA, and most other card data formats
PC software makes configuration changes easy
Swipe speeds from 3 to 60 inches per second
Interfaces: USB-IDTech-HID
Fully supports USB 2.0

---
Ressources
(13)
Drawings and Certificates

---

Certificat d'approbation de l'organisme

Collateral

User Guides

---

Additional Support Resources
Lancez-vous avec Elo aujourd'hui.